Salesforce is a cloud-based customer relationship management (CRM) system. It enables organizations to manage their customers, contacts, sales opportunities, and cases in one place. In addition, Salesforce provides a custom object feature that allows organizations to create their own objects to track data that is specific to their business needs.

While Salesforce is a powerful CRM system, it can be challenging to learn if you are not familiar with CRM systems or databases. In this article, we will provide some tips on how you can learn Salesforce.
Salesforce is a powerful customer relationship management (CRM) platform that can help businesses of all sizes manage their sales, marketing, and customer service operations. While Salesforce is relatively easy to use, there is a learning curve associated with any new software tool. Here are five tips to help you learn Salesforce quickly and effectively:

1. Use the Salesforce Trailhead Learning Path Salesforce offers a comprehensive learning path for users of all levels on its Trailhead platform. The learning path begins with basic tutorials on how to use the core features of Salesforce and progresses to more advanced topics such as customizing your CRM environment and building custom apps.

You can work through the learning path at your own pace and return to specific lessons as needed. 2. Participate in Online Forums and Communities There are many online forums and communities dedicated to helping users learn Salesforce.

These platforms provide an excellent way to ask questions, get advice from experienced users, and find helpful resources. In addition, participating in these communities will help you stay up-to-date on the latest Salesforce news and developments. 3 .

Get Certified in Salesforce Getting certified in Salesforce demonstrates your expertise in using the platform and can open doors to new career opportunities. There are several certification exams available, each covering different aspects of the Salesforce platform.

Choose one or more exams that align with your goals and prepare accordingly using study guides and practice tests . 4 . Enroll in a Training Course

There are many training courses available that can teach you how to use Salesforc e , both online an d offline . These courses typically range from one day t o several weeks i n duration an d often culminat e i n certification upon completion . Many companies offer employee discounts on training courses , so check with your HR department first before enrolling . 5 . Hire a Consultant If you have the budget , another option for learning Sal es force is t o hir e a consultant who specializes i n thi s area . A good consultant will be able t o tailor their teaching methods t o best suit your needs an d level of experience .
Salesforce Full Course – Learn Salesforce in 9 Hours | Salesforce Training Videos | Edureka
Learn Salesforce Step By-Step
Salesforce is a cloud-based CRM software that helps businesses keep track of their customers and sales. It's a popular choice for small businesses because it's relatively easy to use and doesn't require a lot of IT resources. If you're thinking about using Salesforce for your business, you can get started by following these steps:

1. Choose the right plan. There are three Salesforce plans to choose from: Lightning Essentials, Lightning Professional, and Lightning Enterprise. The right plan for your business will depend on your budget and needs.

If you're not sure which one to choose, you can always start with the Essentials plan and upgrade later as your needs change. 2. Set up your account. Once you've chosen a plan, you'll need to set up your Salesforce account.

This process is pretty straightforward—you just need to provide some basic information about your business and create a username and password. 3 . Configure your settings .

After you've set up your account, you'll need to configure your settings so that Salesforce works the way you want it to. This includes things like choosing which users have access to Salesforce, setting up email integration, and deciding how leads should be routed . You can find all of these settings in the "Administration" section of Salesforce .

4 Start adding data . Once everything is set up , it ' s time to start adding data into Salesforce . This includes things like adding contacts , companies , opportunities , quotes , orders , and more . You can enter this data manually or import it from another system if needed . 5 Explore the features . Now that everything is set up and working , take some time to explore all of the different features that Salesforce has to offer . For example , try creating some custom reports or dashboards so that you can get insights into your sales pipeline or customer activity . There ' s a lot that Salesforce can do — so don ' t be afraid to experiment ! 6 Get help when needed . If at any point during this process you get stuck or need some help , there are plenty of resources available both from within Salesforce ( such as Knowledge Base articles ) as well as from the wider community ( such as online forums ). So don ' t hesitate to reach out if you need assistance !
Trailhead Salesforce
Salesforce offers a comprehensive CRM platform for businesses of all sizes. The company's flagship product is its customer relationship management (CRM) software, which helps businesses manage customer data, sales processes, marketing campaigns, and support issues. Salesforce also offers a number of other products and services, including an online application development platform (Force.com), a cloud-based computing platform (Heroku), and a social networking service (Chatter).
Salesforce Admin Course Free
Salesforce Admin Course Free: Become a Salesforce Administrator in Just 8 Weeks! Are you looking to become a Salesforce administrator but don't know where to start? Look no further!

The Salesforce Admin Course Free is an eight-week course that will teach you everything you need to know about becoming a Salesforce administrator. This course covers topics such as the Force.com platform, Saleforce CRM, and administering users and data. You'll also learn how to create reports and dashboards, automate processes, and troubleshoot issues.

By the end of this course, you'll be prepared to take the Salesforce Certified Administrator exam and earn your certification. So what are you waiting for? Enroll today and start your journey to becoming a Salesforce administrator!
Learn Salesforce for Free
Salesforce is a customer relationship management (CRM) software that enables businesses to manage their customers and sales data. It is one of the most popular CRM systems on the market, and many businesses use it to track their sales pipeline and cultivate relationships with their customers. If you're interested in learning Salesforce, there are plenty of resources available to help you get started.

Here are some of the best ways to learn Salesforce for free: 1. Use the Salesforce Trailhead platform. Trailhead is Salesforce's official learning platform, and it's an excellent resource for anyone wanting to learn about the software.

There are dozens of different trails (learning paths) available on Trailhead covering various topics related to Salesforce, such as administration, development, and marketing. Best of all, it's completely free to use! 2. Check out the Salesforce Developer website.

The Salesforce Developer website provides a wealth of information for those wanting to learn how to develop applications on theSalesforce platform. In addition to tutorials and guides, there is also a forum where you can ask questions and get help from other developers. While much of the content on this site is aimed at experienced developers, there is still plenty that can be beneficial for beginners as well.

And like Trailhead, it's all free! 3 . Attend a local meetup or event .

If you want some face-to-face interaction while learning about Salesforce , consider attending a local meetup or event . These events typically feature presentations and workshops on various topics related to using Sales force , so they can be a great way not only t o learn but also network with others who are using or interested in using the software . You can find a list of upcoming meetups and events near you on the official Sales force website .

4 Get involved in online communities One final way t o learn more about Sale s force (and get help when needed ! ) Is by getting involved in online communities dedicated t o this topic A few examples include r/salesfo rce ( Reddit ), Quora , StackExchange , an d SFDCStac kExchange (for developer – specific questions ). Not only will these c ommunities provide y ou wit h valuable information an d insights from other users , but y our involvement could also help y o u land your next job !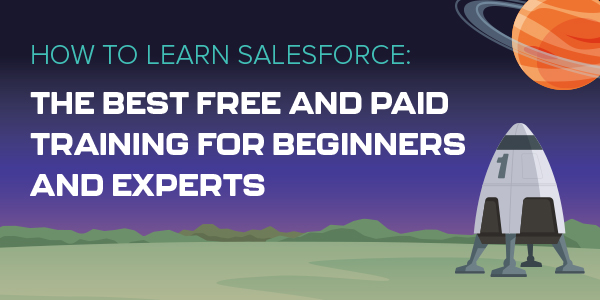 Credit: www.masonfrank.com
How Do I Start Learning Salesforce?
Salesforce is a powerful CRM tool that can help businesses streamline their sales and marketing processes. It can be overwhelming to try to learn everything about Salesforce on your own, but luckily there are plenty of resources out there to help you get started. One great way to start learning Salesforce is by signing up for an online course.

There are many different courses available, so you can choose one that fits your schedule and learning style. Once you complete a course, you'll have a good foundation of knowledge to build upon. Another option is to join a local Salesforce User Group (SFUG).

These groups typically meet monthly and provide a great opportunity to network with other Salesforce users and learn tips and tricks from more experienced members. Finally, be sure to check out the wealth of free resources available on the Salesforce website. Their website includes helpful guides, tutorials, and product documentation that can answer many of your questions.

With all these options available, there's no excuse not to start learning Salesforce today!
Is Salesforce Easy to Learn?
Salesforce is a powerful customer relationship management (CRM) platform with plenty of features to help businesses streamline their operations. As such, it can be difficult to learn for those without any prior experience in CRM or similar software. However, Salesforce offers plenty of resources to help its users get up to speed quickly, including online tutorials, in-person training courses and a comprehensive online help center.

With some time and effort, anyone should be able to master the basics of Salesforce.
Is Salesforce Free to Learn?
Salesforce is a customer relationship management (CRM) software that helps businesses keep track of their customers and sales data. It's a popular CRM tool, and many businesses use it to manage their sales and customer relationships. Salesforce is not free to learn, but there are some free resources available to help you get started with using the software.

If you're new to Salesforce, you can sign up for a free trial account to explore the features and see if it's a good fit for your business. Once you've decided that Salesforce is right for you, there are several pricing plans available depending on your needs. You can also find free training resources online, such as video tutorials, webinars, and e-learning courses, to help you get started with using Salesforce.
How Long Does It Take to Learn Salesforce?
Salesforce is a powerful CRM tool, but it can be daunting to learn at first. The good news is that Salesforce is relatively easy to learn compared to other CRMs, and with some dedicated effort, you can be up and running in no time. How long does it take to learn Salesforce?

This is a difficult question to answer because it depends on your level of experience with similar tools, your willingness to learn, and the amount of time you can dedicate to learning. That said, most people who are new to Salesforce can expect to spend a few weeks learning the basics and getting comfortable with the interface. If you want to become a power user or even an expert, it will take longer – months or even years.

But don't let that discourage you – even basic proficiency in Salesforce can be incredibly useful for any business. The best way to learn Salesforce is by doing. There are plenty of resources available online (including the Salesforce website itself) that can help get you started.

Once you have a handle on the basics, start experimenting with different features and customizations until you find what works best for you and your team. And if you ever get stuck, there's always someone else out there who's been in your shoes before and is happy to help.
Conclusion
Salesforce is a powerful CRM tool that can help businesses manage their customer data, sales process, and marketing campaigns. While it may seem daunting at first, Salesforce is actually relatively easy to learn and use. There are a number of resources available to help users get started, including Salesforce's own online training modules, Trailhead.

Additionally, there are many third-party Salesforce training courses and books available. With a little time and effort, anyone can learn how to use Salesforce effectively.